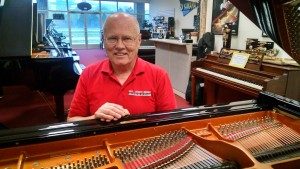 Mr. Larry Otto holds a Master's Degree in Music from the University of Missouri. He has been a music professor and university music department chairman as well as choral conductor, voice and conducting teacher.
He is a singer who also plays piano, organ, and tuba. He not only manages Bill Jones Music but continues to teach keyboard classes in the store for senior adults, as well as private lessons in voice and piano and also serves as music coordinator, choir director and plays in the brass ensemble at a local church. He loves to encourage people to get involved in music because of the wonderful benefits of playing or singing. His experience has been that listening to music is good but actually playing the music has, even more, benefits and pleasures than merely listening. His goal for Bill Jones Music here in the Chattanooga area is that it becomes a place where anyone can learn to make music as well as find the best quality products on which to perform whether it be a piano, organ, violin, viola, cello or vocal.
Visit Bill Jones Music and see for yourself what music learning opportunities are available and what accessories for the band and orchestral instruments are currently on display. Come visit us and check out our new location. Larry and the staff are anxious to become acquainted.
Please follow and like us: