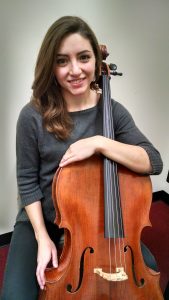 Heather Anderson is a recent graduate of the Eastman School Of Music in Rochester, NY.
Her primary instrument is cello and she has performed extensively with orchestras and chamber groups across the US and Canada, and has been a frequent substitute with the Chattanooga Symphony. She has studied with many well known teachers including Thomas Rosenburg, David Ying and the Ying Quartet. In addition to the cello, she also studied piano privately for over 10 years.
Heather loves to share her enthusiasm of music making with her students. A simple call to the store can provide you with an appointment to meet. Her and get started with lessons on violin, viola, cello or piano.
Please follow and like us: