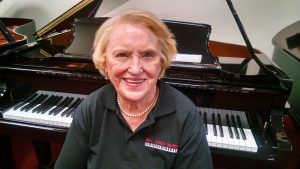 Edwina has extensive experience working in music stores from being book keeper to sales assistant.
At Bill Jones Music she uses all of these talents at some time or another. Her record keeping abilities are impeccable and her love for music and the people who visit our store is obvious in her friendly conversations.
She takes care of the book orders for the piano teacher's method books, keeps inventory up to date and will help you find what ever you need from pianos to guitar picks.
Please follow and like us: