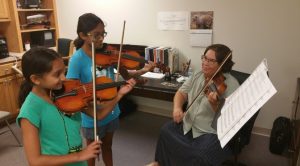 Penka learned the violin in her early childhood, while growing up in Bulgaria.  By learning using Solfege, she has developed perfect pitch and continues to reinforce her students using this strong ear training method.  Her passion for the violin (strings) is demonstrated in her lessons as she focuses her students to develop correct technique and posture. With over 30 years of teaching, Penka is a very confident, patient, and caring teacher.
Her Doctoral thesis was on "Music Theory and ear development". This vast knowledge is passed on to her students  using a combination of creative lesson materials.  Penka has a quiet personality, but her students can see a smile develop as they succeed at their studies. Her music career has given her the opportunity to perform in orchestras, as well as solo pieces in musical performances in local churches.
She teaches Tuesday, Wednesday, Thursday and will be adding Saturdays.
Please follow and like us: