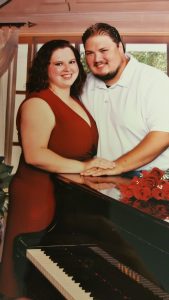 Daniel started piano lessons at the age of 4 and has never known a life without music. His first piano teacher, Teresa Husky of Seymour, TN, not only gave Daniel the foundation of music, but also showed him how to "Love" music. When he was 11, Daniel won 1st place in a 4-H talent competition in every age group and category. This win really gave him the confidence to improve and to learn even more.
While a student a Seymour High School, Daniel taught himself how to play numerous instruments including saxophone, clarinet, trumpet, baritone, French horn, mellophone & percussion. Within weeks of first picking up the baritone, he placed in All State East making 2nd chair.
At the age of 14, he attended Meadow View Baptist Church as a visitor during their Annual VBS. While all the little kids were outside playing in the bounce houses, Daniel went into the Sanctuary and started playing the piano. The Pastor listened and offered the Head Pianist job to him. He was officially voted in unanimously. He remained Head Pianist for 12 years until he took a job that required him to work on Sundays.
Over the past 25 years, Daniel has studied with some of the best pianists in the area, including Donald Brown, Jeff Stice, Sharon Moore, and Lynn Montgomery. Daniel has performed at Dollywood, Knox Expo Center, and many local churches & schools. 
On March 3rd, 2015, Daniel began working at Bill Jones Music as Piano Sales & Online Marketing.  He is also the Online Sales Director and coordinates our website on a day to day basis. He loves every moment doing what he has trained to do, and it is a prayer answered.  
Please follow and like us: