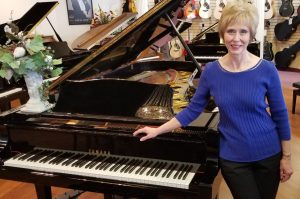 Barbara is a native Knoxvillian who has been teaching piano and voice for over 36 years in both Tennessee and Texas. She received the Dean's award and graduated Magna Cum Laude with a B.S. degree in Music Education from East Tennessee State University. While participating heavily in the college opera workshop, Ms. Nichols was a soloist and accompanist for various churches in the area. After graduation, Ms. Nichols opened her own music studio in Johnson City, accompanied a church youth choir, and was a featured soloist with the Johnson City Community Chorus. A few years later, Ms. Nichols moved to Texas, where she opened the Dallas School of Performing Arts. This music school offered studies in piano, voice, preschool music classes, and artist development through coaching.
During her years in Texas as a musician, Ms. Nichols accepted a position as the first Music Therapist in the central Texas MH-MR facility, became co-owner and director of an Expressive Arts Workshop for children, and taught class piano for the Dallas Independent School District. After returning to Knoxville, Ms. Nichols accepted the position of Director of Music Ministries for a local church, while maintaining a full studio roster of students. She has been an instructor in the Bill Jones Music Center since 1990.
Ms. Nichols is a member of Knoxville's Tuesday Morning Musical Club, the Tennessee Federation of Music Teachers which sponsor the annual Junior Festival audition event, and the National Guild of Piano Teachers. She is also a National Guild adjudicator when time allows. Her teaching studio includes beginner through advancing piano students and voice students beginning in middle school. Ms. Nichols enjoys conducting choral music, teaching children, actively participating in church ministries, being a church vocalist, and preparing students for auditions and competitions.
Please follow and like us: