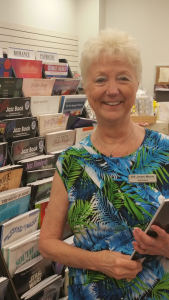 Barbara is in her second career, having retired from Oak Ridge National Laboratory after 40 years in accounting. She attended Maryville College on a Voice Scholarship and through the years has had extensive vocal training.
She started piano lessons when she was six years old and now plays piano for her church. She also directs the Bell Choir and does vocal specials periodically.
She says this is her "Dream Job", being able to work with all the music. Growing up one of her favorite things to do was to go to the music store with her Mother and buy new music. She is also a people person and loves meeting and helping the customers.
Please follow and like us: