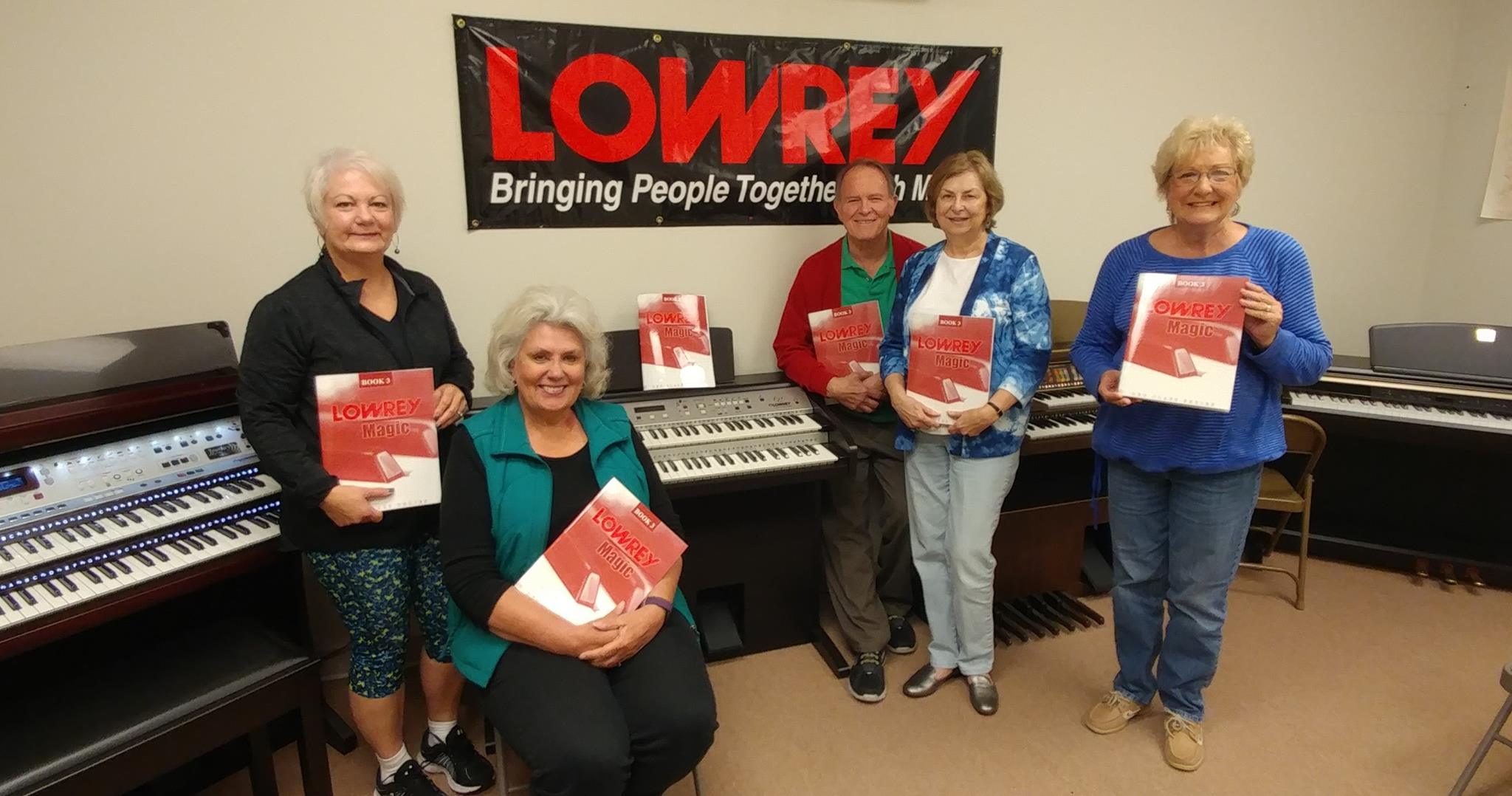 Welcome to the world of incredible entertainment. Lowrey is a world-class leader in E-Z Play.
Lowrey's exclusive 'Easy Play' method provides a quick and easy opportunity to make incredible music with just the touch of a finger. Our 'One-Touch' approach focuses on enjoyable, accessible, and personally fulfilling group music classes rather than musical performance and musical competition. At Lowrey it's never about hitting the right note, or being the best – it's about enjoying the experience, having fun, and picking up some new skills and friends along the way. Our technology and sound do the rest to make you sound like a pro.
Music Makes Me Feel So Good…
Although they may not be the hands of concert artist, when Judy Hanson's fingers sail over the keyboard, you'd think she was a kid again. It's been years since she took music lessons, but now she's picked up the notes like she'd been at it non-stop. What makes it so easy is that now she plays the 'Easy to Learn' way, following color codes to hit the right chords. In minutes she was playing her first song. It's called 'instant gratification' music making and it's picking up steam throughout the country as one of the favored adult activities.
But Judy got back into making music for the enjoyment and satisfaction of playing. She also did it for the wellness benefits.
"I had a friend who had started taking Lowrey music making classes. She had been feeling lonely, tired, and had developed high blood pressure. Another friend who took music classesencouraged her to join her. Now three months later, she's a changed person. She's happy, buoyant, enjoying life and her blood pressure is down. I thought I could use some of that myself! Making music is like therapy. Listening to music makes everyone feel good, but playing music lifts your spirits – it's a release from your problems and daily worries. And that makes me feel better!"
Music Makes Me Feel So Good…
A 2006 study published in the Journal of Advanced Nursing shows that adult patients suffering from chronic pain reported less pain, depression, and disability and felt more empowered after spending a week listening to one hour of music each day. The patients studied, who had an average age of 50, had all been suffering from a range of painful conditions, including osteoarthritis, disc problems, and rheumatoid arthritis, for an average of six and a half years.
Regardless of the type of music they listened to, the patients, on average, reported a reduction in pain of as much as 20%, and a reduction in depression symptoms of as much as 25%.
"Our results show that listening to music had a statistically significant effect on the two experimental groups, reducing pain, depression, and disability, and increasing feelings of power," explains nurse researcher Dr. Sandra L. Siedlecki from the Cleveland Clinic Foundation, Ohio.
"Craftsmanship, quality, and knowing music inside and out – that's what you get with Lowrey. Our customers come in 'knowing' the Lowrey brand. They know it's well built – a brand to be trusted."
Mack Bayne, Lowrey Dealer
Lowrey is the world-class leader in recreational music-making. No other music company has more experience or expertise in delivering recreational music products and programs, and Lowrey is a well-established brand that consumers know and trust.
With research and development reaching as far back as 1918, Lowrey today continues its longstanding hallmark of product excellence and is known worldwide as 'best-in-class'. Always committed to making music accessible for consumers, Lowrey continues to innovate by pioneering new technology and offering a large selection of music making products.
A Distinguished Reputation
Lowrey products have earned a distinguished reputation for design, engineering, and technology, creating the highest quality 'virtual orchestra' on the market today. Our proprietary technology helps ensure that each instrument defines the distinctive Lowrey sound. The people that make Lowrey instruments are the best at what they do and they take pride in their ability to do it.
Lowrey's high degree of musical refinement offers incredible music making opportunities for all levels of players. Lowrey instruments satisfy the most discerning player and those just getting started.
Lowrey is a long-standing brand that continues to develop new technologies and inspiring product lines and expand its market as the company grows.
Lowrey is a division of Kawai Musical Instruments Mfg. Co., Ltd. (KWMS F). An international manufacturer of musical instruments, Kawai is the second largest instrument manufacturer in the world!
There's a new phrase being used to describe our time – 'The Creativity Years'.
People now have a different attitude – they're on the go, and looking for new interests and opportunities to try somethingnew. For many, simply 'kicking back' doesn't really sit well. They have the energy, the creativity, and the joy to try new things, and music is fast becoming an entry into a creative, community-based 'lifestyle'.
Tamara Easton says, "My two kids played in their school's band but I never, ever in my life thought I'd take up music, but I happened to see an ad that said:
'Do you want to be in 'show' business?' and I thought, "Well that sounds like fun. Here I am, a few years later, playing country music tunes for my friends, and out in public, no less! And I'd never played an instrument before in my life! I absolutely love it!"
Easton says what she likes most about making music is that it's so flexible. She can spend as much or as little time playing as she likes– her Lowrey has so much to offer it makes 'sounding like someone who's played for years a breeze!'