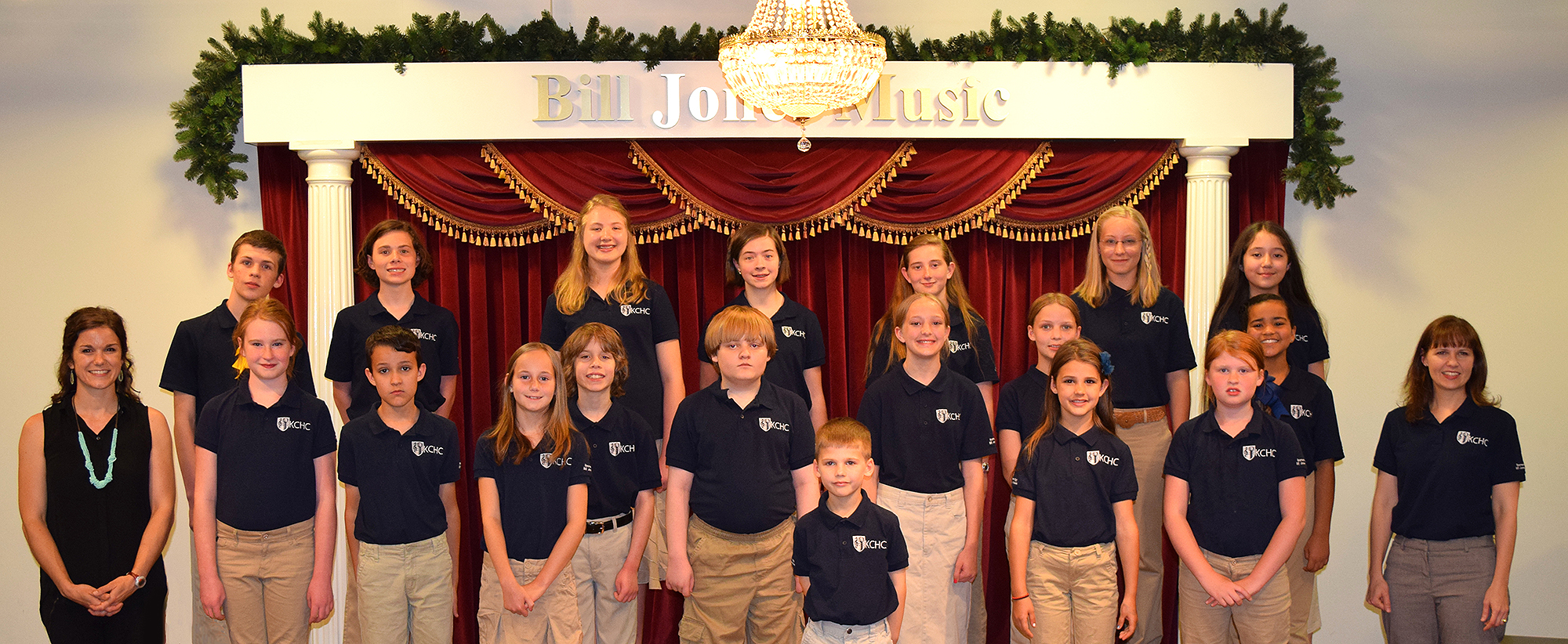 Good News- Plans are underway for January Choir to resume…….
Due to Covid Restrictions – No Fall Semester
Thank you for your interest in the Knox County Homeschool Chorus! Please read the information below. If you are interested in pursuing membership in the choir, please follow instructions on the registration form.
I look forward to making music with your children!
Sincerely,
Katie Howe
KCHC Director
Rehearsals:
Where: Located in the recital hall at Bill Jones Music, 10412 Kingston Pike in West Knoxville
When: **new times as of August 2019
Elementary Choir (1st-6th grades): Wednesdays 2:30-3:30 (or 3:45)*
Secondary Choir (7th-12th grades): Thursdays 3:30-4:30 (or 3:15-4:30)*
*The first Wednesday of each month, and each Wednesday beginning in November in the fall & April in the Spring each choir will have an extra 15 minutes of practice to allow time for 1st-12th grades to rehearse together.
Costs:
Fees for non-Bill Jones Music School students:
$25 one time, once per family, registration fee
1 time uniform purchase fee (approximately $20+ tax for uniform polo shirt to be worn in performances)
9 monthly payments of: 1st child: $40/month 2 kids: $65/month 3 kids:$80/month additional kids: $5/month (payments are due at the beginning of each month)
Fees for students of the Bill Jones Music School: -No Monthly Fee -$25 / semester / student materials fee 1 time uniform purchase fee (approximately $20+ tax for uniform polo shirt to be worn in performances)
Uniform:
Our choir will alternate between the following uniforms:
Casual: Uniform polo shirt, khaki pants or skirt and solid color shoes
Formal: Girls: Solid black dress (if short, black tights must be worn) OR solid black skirt and white blouse. Guys: Solid black dress pants, long-sleeved, solid white button up shirt, black tie (bow tie or long tie is fine).
All students should wear dark color, solid dress shoes.
Performances:
KCHC will perform a minimum of 2 times each year; once in December, and once in May. A few additional performances will likely occur throughout the year, including but not limited to: Nursing Homes, Fantasy of Trees, etc.
Music:
Music and binders will be provided, and will remain the property of the choir. Binders will be checked out to students at the beginning of the semester and returned at the end of each semester. Failure to return the binder or any music, will result in a fee equaling the cost of the misplaced music, as well as a fee to cover restocking/shipping for the replacement of the lost music. Music that is damaged or marked, limiting future use, will result in a fee equaling the cost of the damaged music. Repertoire will consist of unison and multi-part singing. We will be singing a wide variety of age appropriate sacred, folk, classical, baroque, American and international music.
Commitments required:
•KCHC December and Spring Concert participation
•Membership in KCHC requires a commitment to faithful, consistent and punctual attendance. Due to the nature of the choir, when a student is absent, the entire choir suffers. For us to achieve our goals, attendance at all rehearsals are expected. Notify the director if your child will be absent. Therefore, if a student misses more than 5 rehearsals in a semester, the student may continue to attend rehearsals, but will need to pass a singing "test" in order to participate in performances. If the test is not passed, the student may not participate in that performance
•Students are asked to commit to a full year in the choir (from September through May). The commitment of each member is important, in order to achieve unity and consistency within the choir.
Your responsibilities in KCHC:
1. Understand and follow all policies and procedures
2. Exhibit self-discipline and act appropriately at all times.
3. Treat others with respect, trust, honesty, fairness, and kindness.
4. Take KCHC membership seriously and show you are committed to KCHC by doing your best to participate fully in rehearsals and performances
5. Be a positive representation of KCHC at our rehearsals and performances.
6. Faithfully attend rehearsals and all scheduled performances. Exceptions include illness or absence due to an unforeseen circumstance.
7.Notify the director of any absences
Rehearsal Expectations:
1. Choir members should be punctual to all rehearsals
2. Once rehearsal begins, students may not leave for restroom or water unless there is an emergency.
3. If your music has been checked out, it must be returned to the following rehearsal
4. If a member cannot actively participate in rehearsal, the director should be notified prior to the rehearsal and the student will be asked to observe attentively
5. Pay attention to the director!
6. Once rehearsal begins, talking should be limited to conversation about the pieces.
7. Raise your hand if you need help or have a question
8. Electronic devices must remain on silent and stored away during all rehearsals
9. All marks in the music must be made in pencil.
10. Music that is damaged or lost will result in a fine equalling the cost of the damaged or lost music.
Facility Expectations:
1. Students are asked to be respectful of other classes and lessons happening within the music school.
2. Students may not roam around the building without parental supervision
3. Keep the rehearsal space and lobby area clean
4. Students are NOT permitted to wait outside the building. They may wait to be picked up in the downstairs lobby, near the side entrance of the building or in the recital hall
Please download, print and fill out our KCHC Registration Form and bring to the administrative department located downstairs, or mail the form to:
Bill Jones Music
Attn: Marjorie Jones
10412 Kingston Pike
Knoxville, TN 37922