We have an assortment of comfortable headphones for your use for your: digital pianos, amplifier outputs, iPods and phones.
One of our current specials:
Yamaha RH3C Stage & Studio Headphones – only $39.95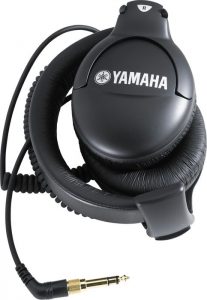 Great-sounding, Affordable Headphones from Yamaha!
Yamaha RH3C stereo headphones sound great in the studio, at home, or on the road. Equipped with pro-quality components, RH3C headphones give you the deep bass and clear high end musicians, engineers, and producers demand. The noise-reducing closed-ear design helps to isolate the sound, allowing you to concentrate on what you're hearing, rather than having to deal with sonic distractions from the outside. An 8′ coiled cord, padded collapsible headband, and 1/4″ adapter are also included with the affordable, impressive-sounding Yamaha RH3C headphones.
Some Yamaha RH3C Headphone Features:
Closed-ear design, Padded, collapsible headband, Coiled cord, Frequency response: 18Hz-20kHz
Impedance: 100 ohms, Sensitivity: 103 dB/mW, 1/8″ plug with 1/4″ adapter and an 8′ cord
See our other accessories in the sheet music department.