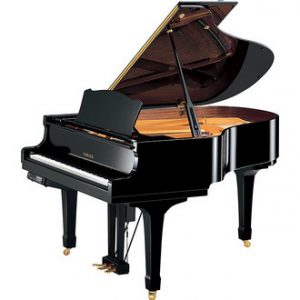 Some great Disklavier features:
1) Simple and easy controls.
Sleek and elegant controls employ a minimum of buttons to keep things simple. The clear and logically laid-out remote is designed to be easy to read as well as easy to use; anyone can quickly and effortlessly enjoy all the E3 has to offer.

2) Built-in amplified speaker system.
The E3 is more than just a top-quality piano. With its genuine Yamaha speaker system, it is truly an all-in-one entertainment system. Each speaker is angled to create a spacious overall sound that beautifully complements the sound quality of the acoustic piano. Whether playing the piano yourself or listening to recordings, the E3's state-of-the-art speaker system will bring your music to life like never before.

3) Bright and clear Display.
The E3 features a cutting-edge, easy-to-see display panel called an organic electro-luminescent display. Not only is it bright and easily readable from any angle, but it can be seen clearly from a distance as well.
1) Start listening the same day it arrives in your home.
There is no special software to install, and you don't need to purchase any music. Special music CDs come included with every E3. You can literally start listening as soon as the E3 is delivered to your home. With over 200 songs prepared for you by Yamaha, all you have to do is sit back and let the E3 turn your living room into a concert hall.

2) Hear subtle sounds with crystal clarity.
The volume on the E3 can be adjusted to meet your particular needs and ensure that your entertainment never disturbs. With the volume set at its lowest levels, the E3 can play whisper-soft sounds while retaining all of the clarity you expect from a Yamaha acoustic piano.

3) The convenience of DisklavierRadio.
With the E3's Internet Direct Connection (IDC), you can listen to DisklavierRadio by "streaming," receiving radio-type broadcasts from the Internet. DisklavierRadio offers uninterrupted streams of music on over 25 different channels full of tunes to match your mood.
Please follow and like us: